Quinoa is a healthy choice for diabetics because it is a whole grain. Compared to other grains, quinoa contains more protein, antioxidants, minerals, and fiber. It's also gluten free, which makes it a healthy alternative for people who are sensitive to gluten found in wheat.
Quinoa is especially helpful for vegetarians trying to lose weight who have trouble finding foods that will fill them up. The protein and fiber found in quinoa can make you feel fuller, which will make you less likely to binge on unhealthy foods.
Quinoa has a glycemic index score of 53, based on a 150-gram serving, or a little less than 1 cup of cooked quinoa, which means it won't cause a spike in blood sugar.
According to a study published in the Journal of Medicinal Food, a diet of Peruvian Andean grains including quinoa can help manage type 2 diabetes and the high blood pressure associated with it.
The American Diabetes Association recommends picking grains with the highest nutritional value for your carbohydrate servings, which makes quinoa a good option.
1. Cajun Shrimp Quinoa Casserole
This recipe is packed full of protein rich ingredients and fresh veggies.
See the full recipe!
2. Balsamic Chicken Salad with Lemon Quinoa
Crisp and juicy pan fried chicken in balsamic, garlic and olive oil, mixed into an incredible loaded salad with kalamata olives, feta, lemon flavored quinoa and sweet grape tomatoes.
See the full recipe!
3. Cauliflower, Quinoa, and Chickpeas Roasted with Turmeric
According to the Journal of the American Chemical Society, turmeric contains a wide range of antioxidant, antiviral, antibacterial, antifungal, anticarcinogenic, antimutagenic and anti-inflammatory properties.
See the full recipe!
4. Creamy Caprese Quinoa Bake
5. Garlic Butter Shrimp and Quinoa
6. Light Baked Chicken Nuggets Coated in Quinoa
7. Loaded Quinoa Nachos
Make nachos night more filling and healthy by adding this quinoa.
See the full recipe!
8. One Pan Mexican Quinoa Skillet
Whoever said healthy food is boring never tried this recipe.
See the full recipe!
9. Quinoa Burgers with Homemade Tzatziki Sauce
10. Quinoa Crusted Chicken Strips with Barbecue Honey Mustard
11. Quinoa Salad with Apples, Pecans, and Cranberries
Everything in the ingredients list can easily be substituted for whatever you have in your pantry.
See the full recipe!
12. Roasted Veggie & Tahini Quinoa Bowl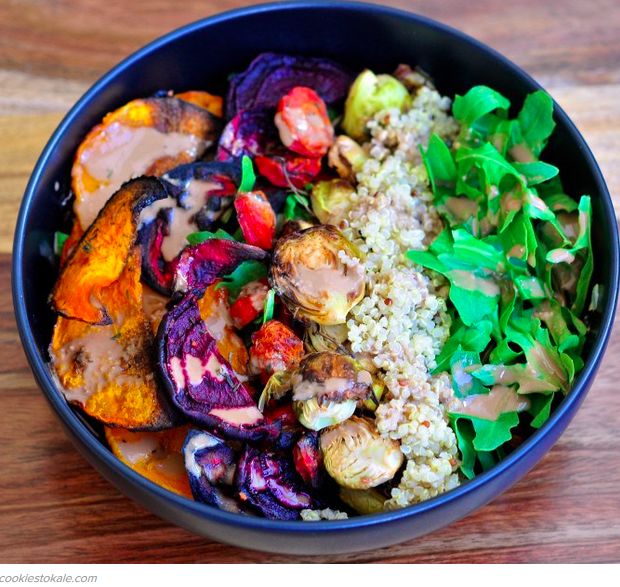 Warm, filling, flavorful and delicious!
See the full recipe!