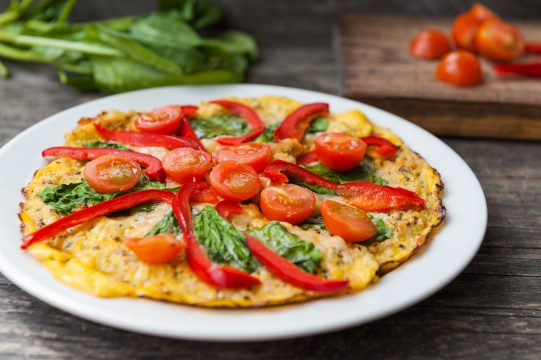 If you love pizza then this low carb cauliflower pizza will put a big smile on your face.
This grain-free cauliflower pizza crust is delicious and much healthier alternative to regular pizza crust.
1 cup of raw or cooked cauliflower has about 5 grams of carbohydrates.
Ingredients:
1 head cauliflower cut into quarters
1 egg lightly beaten
1/4 teaspoon salt
1 teaspoon Italian seasoning
1 teaspoon crushed garlic
1/2 cup shredded part-skim mozzarella cheese
1/4 cup pizza sauce
Additional toppings of your choice
Instructions:
1. Preheat oven to 450°F. Spray a cookie sheet with non-stick cooking spray.
2. Place cauliflower in a food processor add cauliflower and pulse until it reaches the size of small rice granules.
3. Microwave the riced cauliflower in a bowl for about 5 minutes. No need to add water. After microwaving, transfer riced cauliflower to a fine mesh strainer and drain completely, gently pressing out excess water.
4. In a medium bowl, combine 1 cup riced, cooked cauliflower, 1 egg and your parmesan cheese. Next, add the Italian seasoning, crushed garlic and salt. Once everything is well mixed, place your "dough" on the cookie sheet and pat out a roughly 9″ round. Be sure not to press it too thin as it's easy to create holes.
5. Bake the pizza until the top begins to brown, 10 to 14 minutes.
6.Remove from oven. Add sauce, mozzarella cheese, and your favorite pre-cooked toppings and continue to bake until nicely browned all over, 8 to 14 minutes more, be sure to keep an eye on it!