Studies have shown that people who are married or are in happy long-term relationships , particularly men, are less likely to die early and are less likely to die from heart disease or stroke.
Here is a list 20 celebrity couples who are in healthy lifetime relationships along with some of their secrets.
1. Michael J. Fox And Tracy Pollan – Together for 28 Years

The couple's secret? "Giving each other the benefit of the doubt," Tracy revealed at Michael's Annual Foundation Event.
2. Bono And Alison Hewson – Together for 34 Years

Bono divulged his secrets to a long lasting marriage. Speaking on a South African radio show, while on his "360 Tour", Bono said his secret is that his wife, Ali, is a "very patient missus.
3. Cindy Crawford And Rande Gerber – Together for 21 Years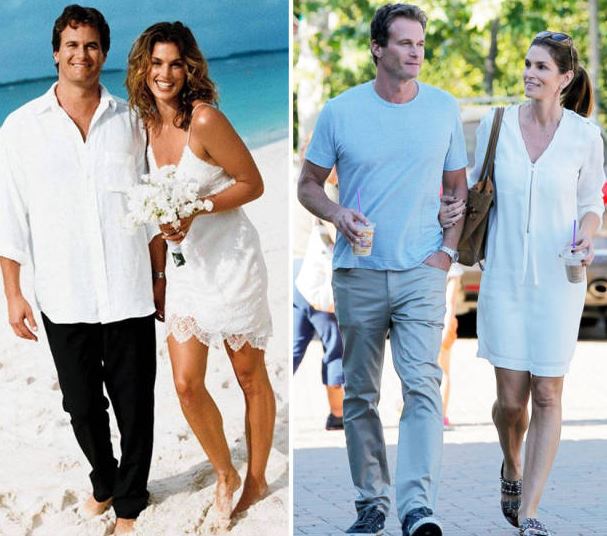 Cindy has been married to businessman Gerber since 1998, and together they have two gorgeous kids, Presley, 16, and Kaia, 14. Gerber says the secret to his long-term marriage is one word: friendship.
4. Denzel And Pauletta Washington – Together for 39 years

Denzel took part in a Reddit AMA, and answered questions about his personal life and career. Washington has been married to Pauletta Pearson since 1983, an anomaly amid the dozens of Hollywood breakups and divorces.
"I don't know if it's show business that has a monopoly on divorce, it's just that you hear about it," he wrote. "I just think that you have to work at it. Not give up on each other. It's a commitment. It's not all the honeymoon, it doesn't last forever, so you work at it. And hopefully you're good friends first, that might help!"
5. Goldie Hawn And Kurt Russell – Together for 33 Years

Goldie told People: "We have our ups and downs like everybody else. You have to want to stay together, and we really want to. Therefore you work to be together."
6. Jada Pinkett Smith And Will Smith – Together for 24 Years

"We've been married 20 years and we've been asking ourselves [what's the secret to marriage] and really at the end of the day it's just not quitting," the 47-year-old actor said of Pinkett Smith to etonline.
7. Jaime Lee Curtis And Christopher Guest – Together for 32 Years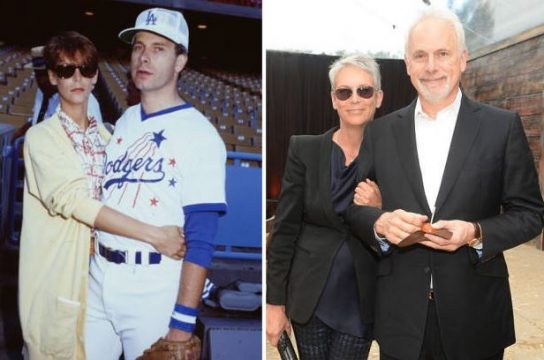 Back in 2015, the "Today Show" asked Curtis to what she credits her successful marriage. Her answer is pretty simple:
"Don't get divorced," she says with a smile. "Hold on."
8. Keith Richards And Patti Hansen – Together for 37 Years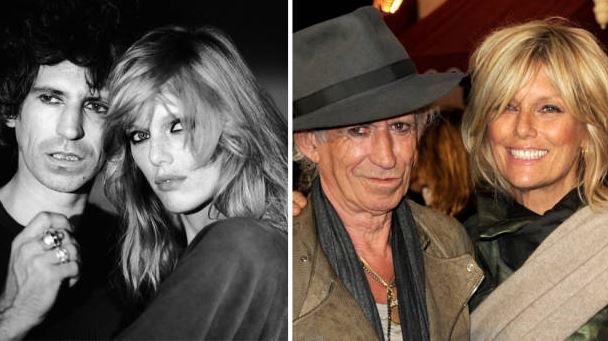 Keith Richards And Patti Hansen have been together for 37 Years.
9. Kevin Bacon And Kyra Sedgwick – Together for 28 Years

"Whatever you do, don't listen to celebrities on advice on how to stay married," Bacon teased. "That's my secret."
10. Michael Caine And Shakira Baksh – Together for 43 Years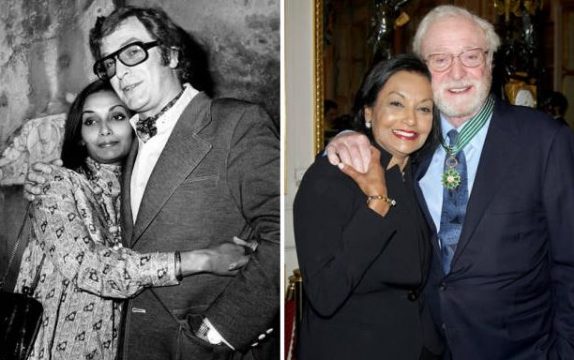 In a wide-ranging interview on The Jonathan Ross Show Michael said "The secret of a good marriage is two bathrooms. You never want to share a bathroom with a woman or you end up with a little corner for your shaving things and stuff. I am older than she is and I need more space."
11. Meryl Streep And Don Gummer -Together for 37 Years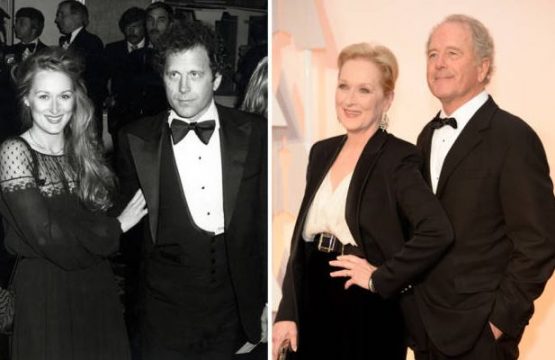 The 66-year-old actress has been married to sculptor Don Gummer for over 30 years and admits she doesn't know the secret to a happy relationship but is just relieved that they have one.
She said: "I feel very lucky and I don't know what I did right. I do know many, many people who are still married to the person they originally married. I know lots of long marriages. My husband himself is divorced. He divorced at 21 after being married for one year.
12. Kirk Douglas And Anne Buydens – Together for 62 Years

Kirk Douglas, 97, has been married to his wife, Anne, for 60 years, and in an interview with CBS2's Pat Harvey he was asked if there's a formula for staying together.The actor responded with a smile: "Yes, there's a formula. You have to fall in love."
13. Tom Hanks And Rita Wilson- Together for 28 Years

"I wish there was a secret, you know," Hanks, 59, said at the Outfest Legacy Awards in Los Angeles, where he was honored with a trailblazer award for his Oscar-winning role in Philadelphia. "We just like each other. You start there."
14. Samuel L. Jackson And Latanya Richardson – Together for 36 Years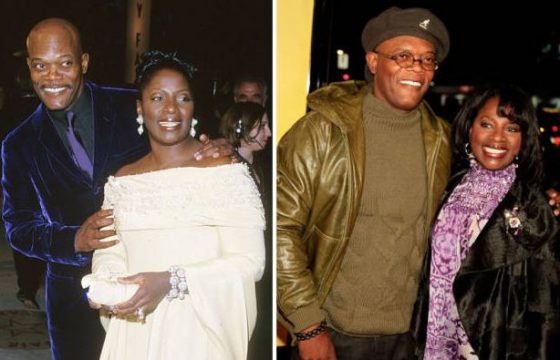 In 1980,Samuel L Jackson got married to beautiful LaTanya Richardson.The couple who have been happily married for 40 years are blessed with a beautiful daughter named Zoe.
15 Victoria Beckham And David Beckham – Together for 19 Years

The soccer star said the secret to their happy marriage of 11 years is spending quality time together reported Hello! magazine.
"We always make time for each other. We have a date night every Wednesday," said David, while Victoria added, "We catch up on what we've missed on the TV. We watch Keeping up with the Kardashians, and we love Melanie B's new reality show."
16. Sting And Trudie Styler – Together for 34 Years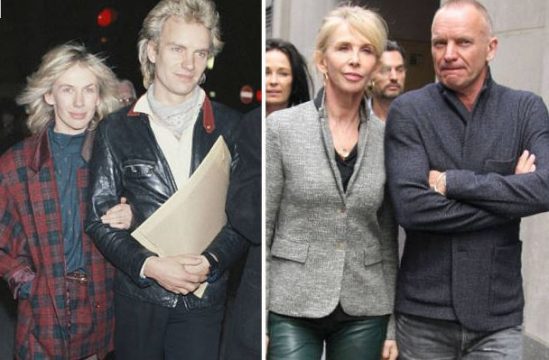 "We're just lucky" In an interview with MailOnline, Sting said there's no secret behind his happy marriage to Trudie Styler "We like each other actually. I don't know how we stay so connected, we just are."
17. Tina Turner And Erwin Bach – Together for 30 Years

In an interview with Hello! magazine, the 73-year-old "Proud Mary" singer gushes that she has finally found nirvana. "It's that happiness that people talk about, when you wish for nothing, when you can finally take a deep breath and say, 'Everything is good,'" she says. "It's a wonderful place to be."
18. Catherine Zeta-jones And Michael Douglas – 18 Years Together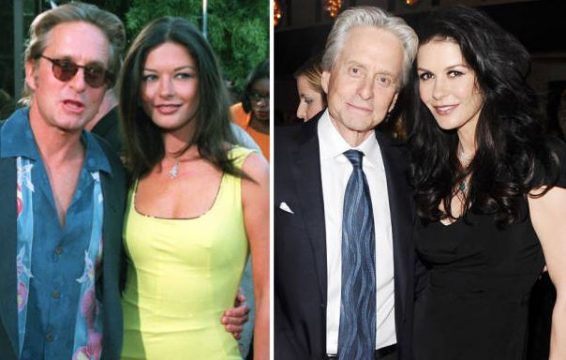 In an interview with the American Association of Retired Persons magazine Douglas said:
"It took work on both our parts," he said of his reconciliation with the actress, after the two had separated for some months in 2013.
"I don't think there's much chance of fixing a relationship if one of you is already out the door."
19. Julia Louis-dreyfus And Brad Hall – Together for 29 Years

In 2012, Louis-Dreyfus told Jay Leno that the secret to her 25-year marriage was that she "found the right guy."
20. Ben Stiller And Christine Taylor – Together for 16 Years

Ben and Christine told ET that the secret to their 15-year marriage is "having a sense of humor."
"I think you got to laugh. Because you know after a while you know life is life you know?" Ben said. "We all have to deal with what life throws at us, so you got to have a sense of humor about it. If you can share that, at the end, it makes a huge difference."