Do you suffer from high blood pressure—also referred to as HBP, or hypertension? According to the Centers for Disease Control and Prevention (CDC), approximately 29% of all American adults, or about 70 million, are estimated to have high blood pressure. To make matters worse, the CDC also states that only 52% of those individuals affected are properly controlling their high blood pressure. As many of us already know, high blood pressure increases the risk of heart attack, stroke, kidney disease, and other major health problems.
If you suffer from hypertension, the American Heart Association recommends home monitoring of your blood pressure in conjunction with regular physician visits. While home blood pressure monitoring is very helpful, it is definitely not a substitution for seeing your doctor regularly and should not be used as such. To aid you in home monitoring, there are now several blood pressure monitors available for home use. Please enjoy our list of top 5 best blood pressure monitors. Here they are, in no particular order:
5. Slight Touch ST-501 FDA Approved Fully Automatic Wrist Digital Blood Pressure Monitor
We start our list of the top 5 best blood pressure monitors with the clinically accurate ST-501 wrist model from Slight Touch. With an extra-large LCD display and a wrist, rather than upper arm, cuff for monitoring, nearly anyone can learn to use this monitor with ease—including individuals with mobility or dexterity issues. It tracks up to 60 readings for two different users, is FDA approved, and powers off automatically.
4. Omron 10 Series Wireless Upper Arm Blood Pressure Monitor with Cuff that fits Standard and Large Arms (BP786N) with Bluetooth Smart Connectivity
This product makes our list of top 5 best blood pressure monitors because of its ease of use, comfort, and technology. The easy-wrap, contoured wide range cuff fits upper arms from 9″-17″ wide, and comes with a storage case. Select iOS and Android smartphone devices can utilize the manufacturer's free applications to manage and track up to 100 readings from your monitor, and unlimited readings on your phone. With indicator lights to help the user understand how the reading compares to typical home blood pressure levels, blood pressure monitoring is made simple with the Omron 10 series.
3. Balance Professional Upper Arm Blood Pressure Monitor with Easy-to-Read Backlit LCD, One-Size-Fits-All Cuff and Nylon Storage Case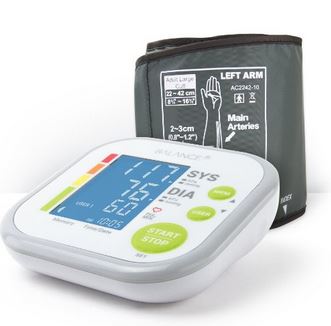 Receiving consistently high ratings online, this model by Balance includes a large LCD screen with oversized numbers to aid users in home monitoring. The one-size-fits-all upper arm cuff can fit most adult arms comfortably. FDA-registered, this monitor verifies systolic pressure, diastolic pressure and pulse, as well as alerts you to the presence of hypertension or irregular heartbeat with sensor alerts. Two users can each store up to 60 readings.
2. Withings Wireless Blood Pressure Monitor
For the ultimate in comfort and flexibility, untether yourself from your blood pressure monitor's hose that connects the receiver to the cuff. Instead, go wireless with Withings' wireless blood pressure monitor. This product makes the final cut on our list of top 5 best blood pressure monitors because of its clever use of modern technology. FDA approved, the cuff communicates with your smartphone via the Health Mate app; it's compatible with a wide range of both Android and iOS models. You can upload your measurements with either a Bluetooth 4.0 or USB cable. Ready to take a reading? Slip the cuff on and turn on the monitor. Health Mate will launch automatically and tell you what to do next. It doesn't get much easier.
1. Ozeri CardioTech BP3T Upper Arm Blood Pressure Monitor With Intelligent Hypertension Detection
Last but not least on our list of top 5 best blood pressure monitors, the Ozeri CardioTech BP3T is an ideal choice for those who suffer from arrhythmia, or irregular heartbeat, as well as hypertension. Designed with increased user comfort and decreased measurement time in mind, this advanced monitoring system utilizes a state-of-the-art CPU that uses a double pulse detection algorithm to enhance accuracy. The cuff will inflate or deflate based on blood pressure detection in real time, and the monitor features a blue LCD with LED backlight.
Wishing You Good Health
As with any medical product purchase, please perform your due diligence online prior to purchasing any of these top 5 best blood pressure monitors to ensure you are choosing the model that best meets your individual needs.
Images compliments of amazon.com