Studies consistently show that low-carb diets have metabolic health benefits for many people, especially those with poorly managed type 2 diabetes. Low-carb diets are very effective at lowering blood triglycerides, which are fat molecules in the blood and a well-known risk factor for heart disease. The ADA approves the use of a low-carbohydrate diet in individuals with type 2 diabetes who are overweight or obese as a way to promote weight loss.
Keep in mind that some carbohydrates are better for you than others. For example, complex carbs from vegetables, whole grains and fruits, help you fill up and provide energy in a way that carbohydrates from a pizza don't.
For those looking for some low-carb meal ideas, try these 8 low-carb dinners that are all less than 500 calories.
1. Beef Burger with Jerk Onions & Avocado Cucumber Salad by eatdrinkpaleo

Jerk is a cooking style originated from Jamaica in which meat is marinated with a spicy, tasty mixture called Jamaican jerk spice. It may look complicated, but it takes about 30 minutes to make.
See the full recipe!
2. Balsamic Chicken Roasted Vegetables by Skinny Taste
This is an easy one-pan meal with balsamic chicken loaded with asparagus, peppers, mushrooms, and onions. At only 400 calories per serving, this flavorful, herb-spiced dinner is a great dinner choice.
See the full recipe!
3. Zucchini Pizza Casserole by kendrastreats
If you love pizza then this low carb Zucchini pizza will put a big smile on your face. This healthy alternative has all the pizza taste without all the carbs, and it packs 26 grams of protein per serving.
See the full recipe!
4. Spaghetti Squash With Meatballs by alldayidreamaboutfood
Spaghetti squash is a lower-carbohydrate alternative to regular pasta or other squash especially if you're following a low-carb diet. Having fewer carbs per serving means spaghetti squash won't influence your blood sugar as drastically as higher-carb foods. This recipe uses spaghetti squash instead of spaghetti, which brings each serving down to only 235 calories.
See the full recipe!
5. Sesame Beef Strips and Stir-Fry Vegetables by dinner-mom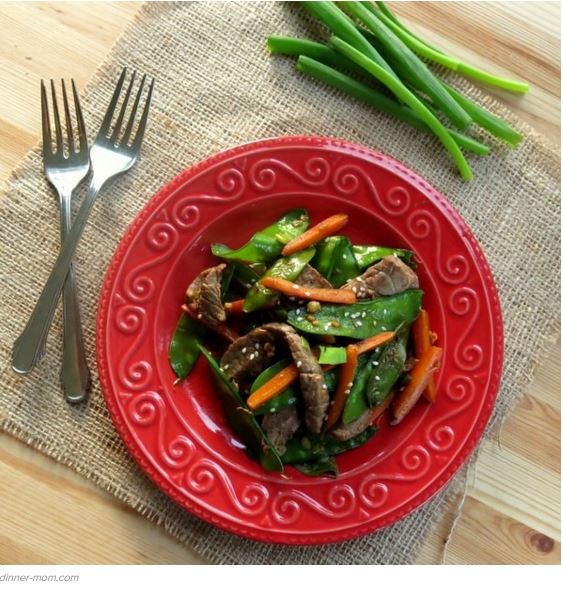 This is the perfect recipe for a busy night. Dinner is ready in less than 30 minutes and the best part is there's just one pan to clean!
See the full recipe!
6. Spicy Shrimp And Avocado Lettuce Wrap by thegarlicdiaries
This Mexican shrimp taco-inspired dinner is stuffed with avocado, shrimp, jalapeño, and cilantro, but instead of high carb shells, it uses romaine lettuce for some delicious low-carb goodness.
See the full recipe!
7. Sesame Salmon with Cucumber Salad by thegantzery
Salmon is a great protein source that also provides omega-3 fatty acids and vitamin D. The American Heart Association recommends eating fish (particularly fatty fish) at least two times (two servings) a week.
See the full recipe!
8. Stir Fry Zucchini Noodles by Diethood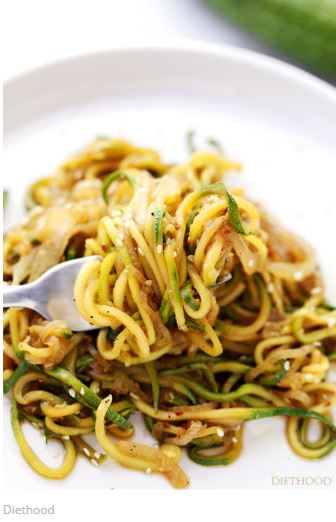 For those days when you're craving Chinese food but don't want all the extra fat and calories that come with your local Chinese take-out. This dish uses zucchini instead of high-carb noodles helps cut down on the carbs intake, but you still get the same flavor and texture without the guilt.
See the full recipe!